San Francisco is a part of the cultural, commercial, and financial heart of California. As of 2020, the city's population is approximately 873,965 residents and is the 4th most populated city in the state (and the 17th most populated in the nation). The city spans 46.9 square miles and includes a wide variety of Victorian buildings, many of which are well-preserved and uniquely historic.
Victorian-style homes originated in England during Queen Victoria's reign and rose to prominence between 1830 and 1910. Victorian homes are typically large, with two/three stories, and one-story porches that wrap around the entire home. The home's designs are asymmetrical, with very steep roofs, and both bright colors and decorative ornamentation.
In spite of its proximity to the cutting edge of the technological industry and economic innovation—in terms of real estate—San Francisco is still best known for its vintage architecture. There are a huge variety of styles available within the city's hot real estate market, but Victorian-style homes occupy a special corner lot in the imagination of San Francisco homebuyers.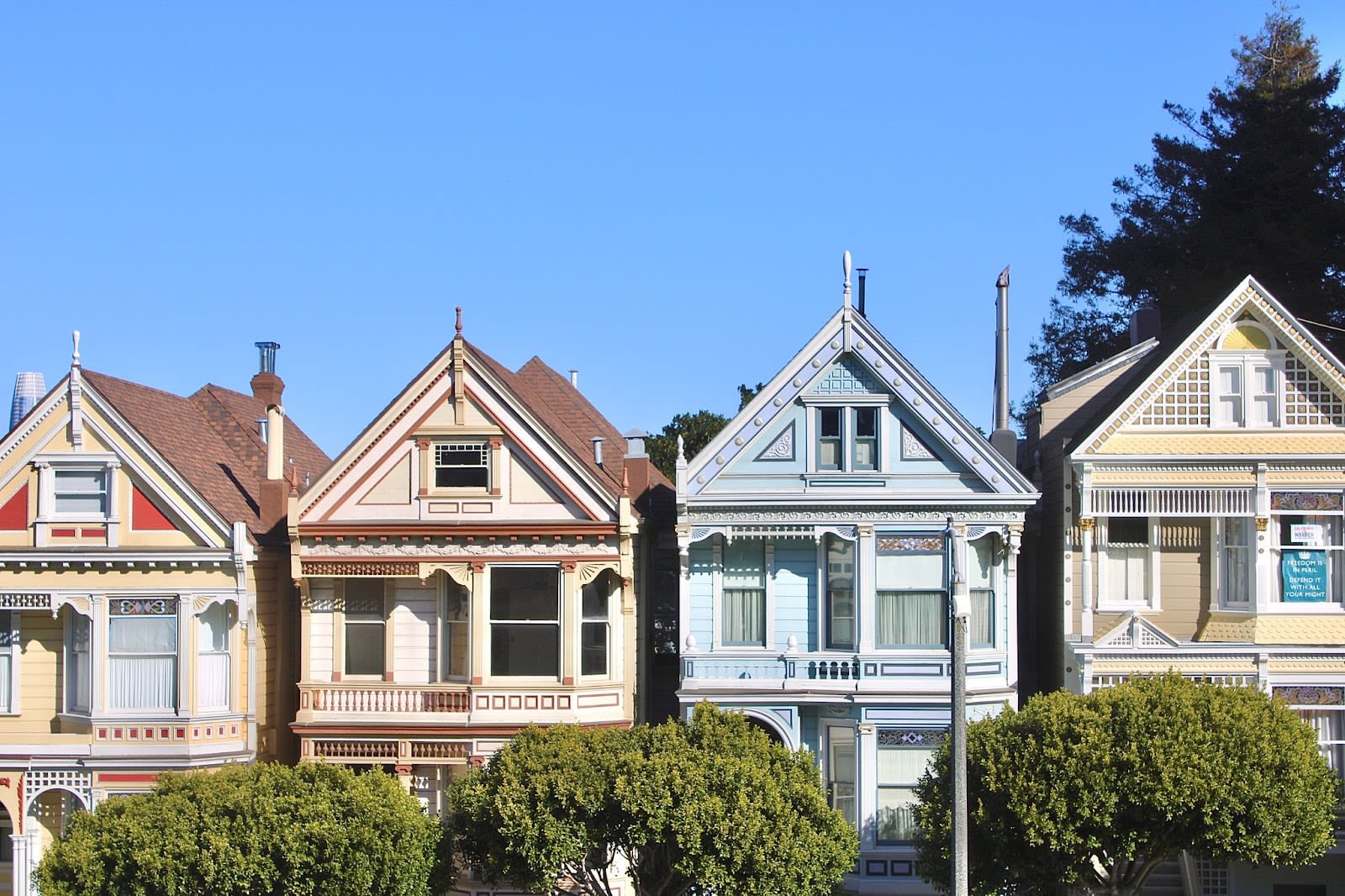 The Painted Ladies and other uniquely colored exteriors
Possibly the most famous Victorian homes within the city of San Francisco are those along Alamo Square, which is better known as Postcard Row. Known to locals as the Painted Ladies, these colorful homes were built in the 1890s, but the bright, pastel colors were added later in the 60s by artist Butch Kardum. You can find these homes on Steiner Street between Grove and Hayes.
Each of the Painted Ladies has the same stature and style, but their varied colors and accents make everyone truly unique. While the Painted Ladies are adorned in pastels, many Victorian homes are painted darker, more intense shades. The baseline ornate features may remain, but color choice allows for a lot of variation amongst Victorian home exteriors.
Another building that stands out amongst vintage San Francisco homes is a bright purple and pink Victorian in The Mission District. Despite being a popular neighborhood full of Victorian-style homes, this pink and purple gem is unique, specifically because of the brightness of its exterior. Located on the corner of San Jose and 24th Street, this lavish home is hard to miss.
Paint and wallpaper
When you think of Victorian homes, you may think of monochrome walls; gray, various shades of white, or dull blue. But San Francisco has an abundance of Victorian homes that play around with various wall (and ceiling) colors.
The home located at 937 S Van Ness Avenue is a great example of a playful Victorian home interior. From the outside, it looks like a run-of-the-mill Victorian-style home for the price range—but on the inside, the home is a lot more whimsical. With green and blue walls and a peach-colored ceiling, this property includes out-of-the-box pops of color.
One of San Francisco's favorite Victorian structures is fondly nicknamed the Addams Family home. While its exterior is relatively tame, the interior (more specifically, the kitchen) is wholly unique, featuring dark green tiling with groups of multicolored tiles sprinkled in.
For a more modern take on this Victorian motif, scale back the drama and pair decorative wallpapers with neutral colors to maintain the expectations of Victorian design without living in the past.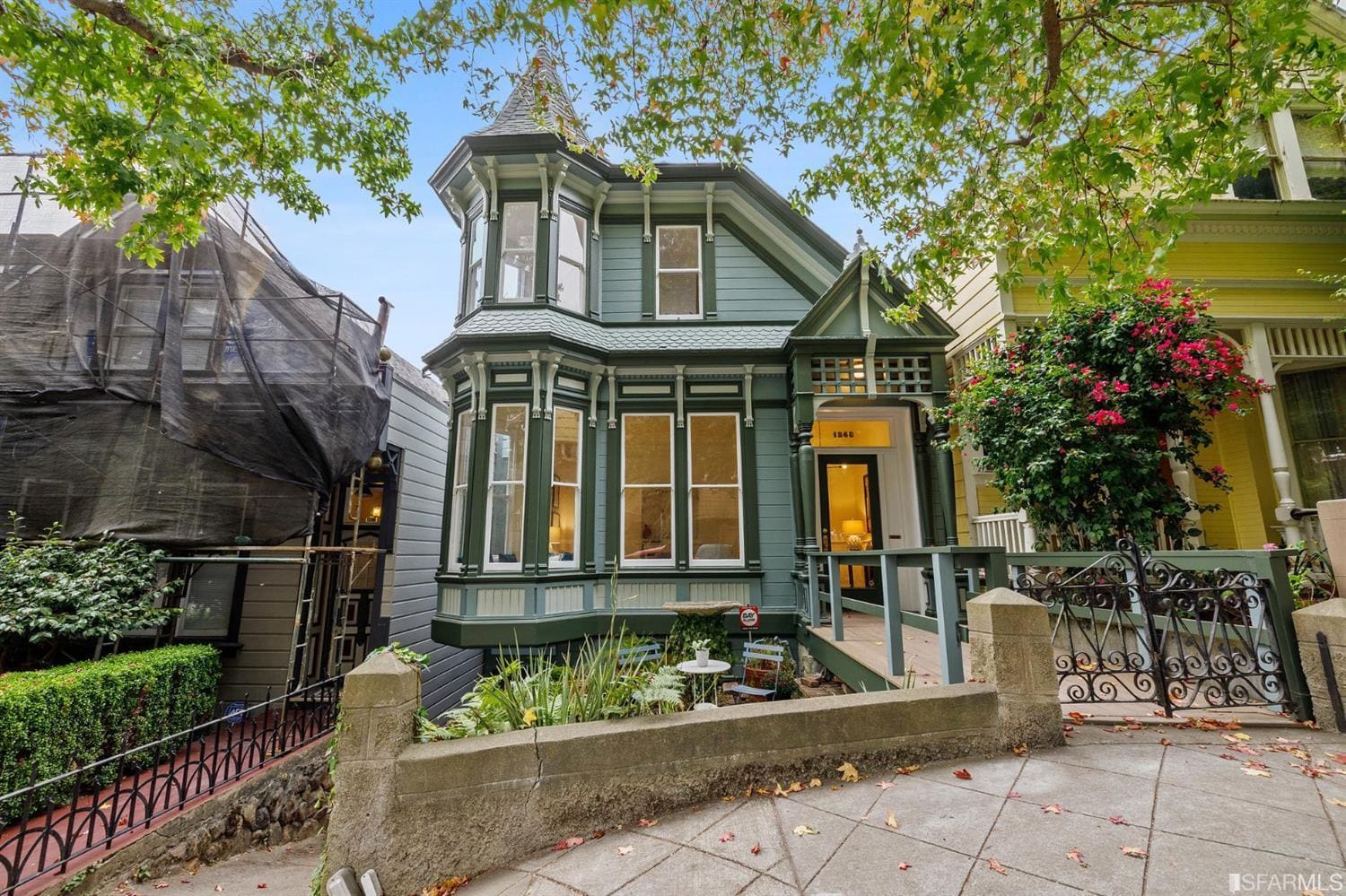 Exterior fretwork
Fretwork is the interlaced decorative design on the outside of San Francisco's Victorian homes. Fretwork can be carved in low relief onto a solid background, or cut out with a fretsaw, coping saw, jigsaw, or scroll saw. Most fretwork patterns are geometric in design and made of wood or metal.
A good example of exterior fretwork is the Four Seasons houses or Waller Women houses. These houses are located at 1300-1328 Waller Street, between Masonic Avenue and Del Mar Street. This row of Queen Annes consists of four near-identical homes, each with different coloring and features that denote a specific season. Each of these homes has intricate detailing, also known as gingerbread trim. As well as gabled roofs and intense scrollwork. The "winter" home stands out, as it's embellished with a carved snowflake above the entryway.
The Sarah Mish House, which is no longer used as a residential home, also has some intricate embellishments on the outside of the home. The fretwork is unique to the property and stands out among other San Francisco Victorian homes.
Picture rails
Picture rails refer to the thin piece of horizontal molding that sits 12-20" below the ceiling in a room. These architectural details are typically only found in older homes. As its name suggests, many homeowners make use of the additional space by adding framed photos or art.
These aren't quite as rare as some other architectural details within Victorian homes, but what people decide to do with them makes all the difference.
517 Lyon Street has a small living room space, and behind the couch is a monochrome white wall. On the wall is a shelf that hangs up toward the ceiling, leaving room to hang picture frames or other knick-knacks.
Looking for a San Francisco Victorian home?
Whether it's a Victorian masterpiece or a newly built condo, if you're interested in buying or selling San Francisco real estate, contact Bonnie Spindler for the best local market analysis and customer service.