Why Classic Victorian Houses Never Go Out of Style
If you've ever had a chance to cruise down the streets of Alamo Square in San Francisco, then you've no doubt seen the classic, iconic look of Victorian-style Architecture. A style of architecture that originated in England during the reign of Queen Victoria, Victorian architecture can be found in cities and towns throughout many parts of the world, particularly in the U.K and former British colonies.
So what is the Victorian style of architecture and why, more than a Century after the end of the Victorian era, does Victorian-style architecture remain as a fixture in cities like San Francisco? In today's blog, I'll be going over some of the main aspects of Victorian-style houses and exploring why Victorian architecture has remained fashionably in-style over the decades.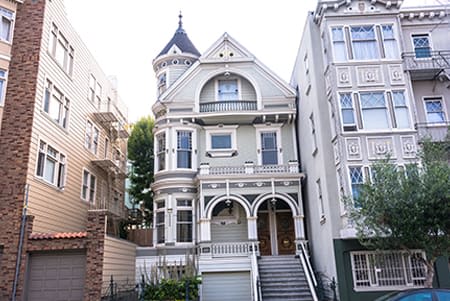 What is Victorian-Style Architecture?
Victorian architecture can be described as a style of architecture that developed during the reign of Queen Victoria (18037-1901) in the mid-to-late 19th century. As Victorian-style architecture grew in popularity over the years, many variations of Victorian architecture subsequently arose, often incorporating influences from other parts of the world.
Typical Features of Victorian Houses
While there are many variations of Victorian-style architecture, common features of Victorian houses include:
Outer walls made of stone or wood A prominent feature of most Victorian styles is the use of wood siding, however, later variations of the Victorian style have stone exteriors.
Two or three stories Victorian houses are typically large, spacious homes of impressive stature.
Complicated, asymmetrical design In contrast to the boxy, symmetrical style of architecture common in modern American cities, Victorian-style homes feature wings, bays, and other interesting design aspects.
Textured exteriors Victorian siding is often constructed using scalloped shingles, half-timbering, or patterned masonry.
Single-story porches Large, one-story porches are a common feature of certain variations of the Victorian style, like the Queen Anne style.
Vibrant paint colors In the old days, most houses were given a monochromatic (one-color) paint job of usually white or beige. By the end of the 19th Century, brighter earth tones had become fashionable.
In certain historic neighborhoods in San Francisco and other areas, Victorian homes are built close together in terraced rows.
Buying a Victorian Home
Usually quite spacious, Victorian homes came to symbolize affluence and prosperity. Victorian homes today are quite popular in some areas and modern Victorian-style houses are sought after by those who like this classic, sophisticated style of architecture. Because many Victorian homes are rather old, it is always wise to hire a real estate agent who is experienced in dealing with Victorian-style homes and knows what to look for when helping
buy
or
sell
a Victorian house.
On the flip side, old Victorian-style homes present a perfect opportunity for those like to fixer-upper projects. Renovated
Victorian houses
can be both sophisticated and extremely elegant in appearance, and can fetch high market values in areas like San Francisco.
Victorian Houses in San Francisco
Certain historic neighborhoods of San Francisco like the Haight-Ashbury neighborhood or Alamo Square are defined by their classic Victorian homes. During my 20 plus years working in San Francisco's real estate industry, I've become known as the Victorian Specialist for my particular interest in––and passion for––Victorian-style homes.